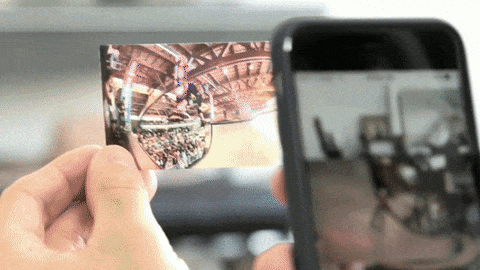 (NEW YORK, NY – November 4, 2016) – VentureFuel, Inc., the company that accelerates the growth of new technology and emerging media companies by forging strategic alliances with Fortune 500 advertisers, announced today that it has partnered with Lifeprint, a mobile instant photo printer that prints video clips, Snapchats, GIFs or other Hyperphotos™ .
Lifeprint enables users to print static frames of a video into a physical photo, that will leap to life with full motion video via augmented reality. This video-as-a-photo capability allows the generation who grew up with only digital photos the ability to print and share pictures both in the real world and digitally. Lifeprint created its own social network around sharing these Hyperphotos™ as you post them and send them to family, friends and followers so they can print out your shots with their own Lifeprint printers all over the world. LifePrint is being exclusively sold via Apple Stores this holiday season.
"LifePrint is bridging the physical and digital world and in the process building a robust social network," said Fred Schonenberg, Founder of VentureFuel. "It's one of the coolest things I have seen in tech, but beyond the wow factor there is going to be incredible scale and creative opportunities for brands to drive ROI both on-line and off."
"VentureFuel knows how to weave the right brands into new product launches that help enhance the user experience and accelerate both the brand and the new tech companies' success," said Robert Macauley, Co-Founder of Lifeprint. "This is such an exciting time for Lifeprint and we are thrilled to partner with brands to build unique experiences that continue to bring our consumers awesome opportunities and fun ways to use our products and network."
About VentureFuel, Inc.:
VentureFuel, Inc. provides national advertising sales representation for new technology and emerging media companies. VentureFuel curates the best and most disruptive platforms and represents them to Fortune 500 advertisers and their agencies. The company provides revenue generation, brand positioning, ad package creation and other consulting services to build elite sales organizations to execute first-to-market charter deals and fuel the growth of the new ventures. The company was founded by Fred Schonenberg, who has over 15 years of high growth sales experience, introducing new media formats, and first-to-market products to the ad marketplace. Learn more here.
About Lifeprint:
Lifeprint was born out of a desire to free the world's photos from digital screens and provide the opportunity to hold the magic of real photographs in your hands. Lifeprint is an app, a worldwide social printer network, and a portable printer that enables a truly unparalleled photo experience. The printer and app allow you to create augmented reality photos, then instantly print those photos directly from your smartphone. Every photo can tell a story using the Augmented Reality Hyperphoto™ technology, truly bringing photographs into the new millennium. To learn more visit www.lifeprintphotos.com.
# # #
VentureFuel Contact:
Adrienne Scordato
Founder & CEO, Atrium PR
917.402.5377, adrienne@atrium-pr.com